Directed by Atsushi Nigorikawa (Naruto, Castle Town Dandelion)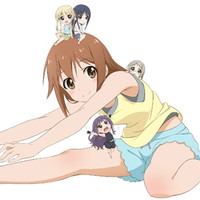 It is officially announced that a diet training-themed new TV anime series Ani Tore! EX (Anime de Training) is set for a premiere on Tokyo MX and Sun TV on October 12, this year's Health and Sports Day. It features five girls who are aiming to become idols: Asami Hoshi, Eri Higuchi, Shizuno Saotome, Shion Tachibana, and You Hiraoka. They practice various types of training, such as push-up, sit-up, back extension, dance, yoga, stretch, trunk training, and Tai Chi, while talking to viewers.
Atsushi Nigorikawa, known for his episode director works for Naruto and the ongoing Castle Town Dandelion, serves as director, alongside anime character designer/animation director Shuhei Yamamoto (Strike Witches 2) and series composition writer Daisuke Ishibashi (Inazuma Eleven Go). Rising Force works on anime production. The VAs for the five main girls and the premiere schedule will be announced later.
【新番組】あなたのココロとカラダを萌やします!主観目線で一緒にエクササイズ!燃焼系TVアニメ「あにトレ!EX」10月12日(月)体育の日 TOKYO MX、サンテレビほかにて放送スタート! http://t.co/eO2pG8tku8 pic.twitter.com/pguGD3WoL0

— TVアニメ「あにトレ!EX」公式 (@anitore_ex) August 28, 2015
痩せすぎでも太りすぎでもない…いつでもモチベーションを保っていられる健康的なカラダになりましょう~♬ そんなアニメでございます!体育の日スタートです!です! 放送時間やキャスト情報は後日! #anitore_ex #あにトレ pic.twitter.com/AudHZNDQ1w

— TVアニメ「あにトレ!EX」公式 (@anitore_ex) August 28, 2015
via: Mantan Web
© 2015 ESE