Plus previews of upcoming releases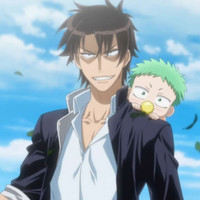 North American anime distributor Discotek Media has unloaded on Facebook and Twitter with a barrage of anime licenses and release previews, including Beelzebub, Kyousougiga, Hana Yori Dango and more.
Beelzebub - complete series on DVD in 2016 the 2011
The adaptation of Ryūhei Tamura's Shonen Jump manga about a tough students at a school for juvenile delinquents who picks up the infant son of the demon king
Kyousougiga on DVD and Blu Ray
Toei Animation and Banpresto's wildly animated 2013 series
Hana Yori Dango the complete anime TV series and movie DVD collection. Japanese language, English subtitles, and English dub.
1996 adaptation of Yoko Kamio's school drama shoujo manga
Karate Master aka 1973's Karate Baka Ichidai
07-Ghost - Complete DVD collection
2009 adaption of Yuki Amemiya and Yukino Ichihara fantasy manga
Z/X Ignition TV Series DVD collection scheduled for November
anime adaptation of card game
Getter Robo: Armageddon - coming to Blu-ray
1998 sequel to seminal combining mecha series
Other release previews include
Venus Wars - December on Blu Ray
Space Adventure Cobra movie - December on Blu-ray
Samurai Pizza Cats
A look at the final packaging for the Samurai Pizza Cats SD-BD. This is all 52 episodes of the English dubbed series on 1 Blu Ray disc in standard definition quality. Retail Price is $34.95. Exact release date is still being determined but it is going to manufacturing this week.
Arpeggio of Blue Steel complete TV series DVD collection October 27th 2015
Lupin VS Conan TV special DVD
October 27th 2015
Lupin VS Conan movie DVD
October 27th 2015
Coming in November the complete DVD collection of Saint Seiya the Lost Canvas
January on DVD only. Not sure if BD will be possible.
Final cover for Yowamushi Pedal original TV series on DVD
Aiming for a December release.
Working on the single disc DVD version of Blue Sub 6 with both English dubs and Japanese DTS audio
Library War complete TV series and special on DVD
November 4th 2015
November DVD
Work in progress

------
Scott Green is editor and reporter for anime and manga at geek entertainment site Ain't It Cool News. Follow him on Twitter at @aicnanime.