CD single "Mazeruma Kiken" ranked 23rd in the weekly single chart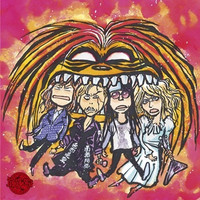 Tokuma Japan has posted a four-minute full music video for "Mazeruna Kiken" (Do not mix. Hazardous), the OP song for the ongoing TV anime adaptation of Kazuhiro Fujita's Ushio to Tora/Ushio and Tora manga, performed by four-member Japanese rock band Kinniku Shoujo Tai/King-Show. This is the second anime theme song for the band, since "Chiisana Koi no Melody" released in January 1997 and used as the OP song for EAT-MAN. The manga author provided two jacket illustrations for the CD single. It was released in Japan on August 5, ranking 23rd in the Oricon weekly single chart.
The Ushio and Tora TV anime is available to Crunchyroll audience in the following territories: USA, Canada, United Kingdom, Ireland, Australia, New Zealand, South Africa, Latin America, Scandinavia, Netherlands, Middle East/North Africa, and Europe (excluding France and French speaking and Italy and Italian speaking countries).
"Mazeruna Kiken" MV
CM
Regular edition CD jacket illustrations
(front)
(back)
Kinniku Shoujo Tai