Biggest anison event takes place this weekend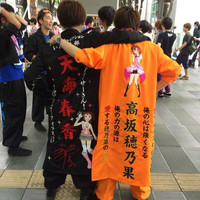 Animelo Summer Live is one of the biggest anime song (anison) events in Japan, started in 2005. At this year's 10th anniversary, August 28th first day presented a special treat for idol anime fans with the casts of Love Love! and The [email protected] teaming up for performances of "Wonderful Rush," "~Kiramekira~," :No brand girls," and "Go My Way!!"
Animelo Summer Live 2015-THE GATE-初日、μ'sはアイドルマスターさんとコラボをさせていただきました! ありがとうございました!!! #lovelive #anisama pic.twitter.com/ri6APuKy2a

— ラブライブ!公式 (@LoveLive_staff) August 28, 2015
READY!!~僕らは今のなかで / アイドルマスター×μ's #anisama

— アニメロサマーライブ公式 (@anisama) August 28, 2015
Wonderful Rush~キラメキラリ~No brand girls~GO MY WAY!! / アイドルマスター×μ's #anisama

— アニメロサマーライブ公式 (@anisama) August 28, 2015
Rival fans unite
この人たち…特攻服着たことないド素人なんだろうな。特攻服で地べたに座り込むのは、背負ってるエンブレムを『地に落とす』て意味だから絶対にしたらいけないタブーだし、そもそもそんなことも知らずに着るとか服にもキャラにも失礼すぎる。 pic.twitter.com/V3iBevA5PV

— 雪凪 (@yukinagi6426) August 28, 2015
This year's lineup:
August 28: The [email protected], AKINO from bless4, Yuka Iguchi, Masayoshi Oishi, King Creamsoda,
Maon Kurosaki, Natsumi Kon, Konomi Suzuki, TRUSTRICK, Iori Nomizu, BACK-ON, Runa Haruna,
μ's, Melocure, Momoiro Clover Z, LiSA, Ray
August 29: The [email protected] Cinderella Girls, Air Aoi, Shouta Aoi, i☆Ris, angela, asami Imai, Aya Uchida,
Customi Z, Mami Kawada, 3-E Summer-tan, SCREEN mode, sphere, ChouCho, Nanamori-chu☆Goraku-bu,
Pile, mamoru Miyano, Milkey Holmes, Kaon Wakeshima
August 30: Mashiro Ayano, Wake Up, Girls!, Maaya Uchida, Ayaka Ohashi, Yui Ogura, Kensho Ono,
Kalafina, GRANRODEO, Mikako Komatsu, ZAQ, JO☆STARS~TOMMY,Coda,JIN~, Tesapurun♪, Trysail,
Minori Chihara, Emi Nitta, fhána, Rhodanthe*, YuiKaori
Theme song "Hajimare (Lets Get Started), THE GATE" was written by Aki Hata (Love Live!) and composed/arranged by Kazunori Watanabe (AKB48's 31st single "Sayonara Crawl").

------
Scott Green is editor and reporter for anime and manga at geek entertainment site Ain't It Cool News. Follow him on Twitter at @aicnanime.