First episode advance screening event will be held on September 27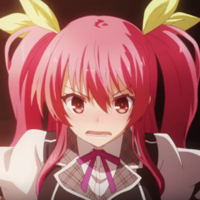 The official website for the upcoming TV anime adaptation of Riku Misora's action fantasy light novel series Rakudai Kishi no Eiyuutan: A Tale Of Worst One/A Chivalry of a Failed Knight has announced its premiere schedule.
October 3: AT-X (23:30-)
October 4: Tokyo MX (24:30), TV Aichi (25:05-)
October 5: Sun TV (23:30-)
October 9: BS11 (23:30-)
It has been confirmed that 23-year-old voice actress Nao Touyama, who plays Shizuku Kurogane, will join the advance screening event of the first episode to be held at Cinemart Shinjuku in Tokyo on September 27, alongside Ryota Oosaka (Ikki Kurogane), Shizuka Ishigami (Stella Vermillion), and the
OP song "Identity" singer Mikio Sakai. General sales of its 2,000 yen tickets will begin on September 12.
Also as reported, ALI PROJECT provides "Haramitsu Renge," their 31st single to be released on October 21,
as the anime's ED song.
Latest PV featuring the OP song "Identity"
Latest main visual
Main voice cast
Ikki Kurogane: Ryota Oosaka (Haruto Tokishima in Valvrave the Liberator)
Stella Vermillion: Shizuka Ishigami (Ellis Fahrengart in Bladedance of Elementalers)
Shizuku Kurogane: Nao Touyama (Chitoge Kirisaki in Nisekoi)
Nagi Arisuin: Shintaro Asanuma (Nishiki Nishio in Tokyo Ghoul)
Ayase Ayatsuji: Yu Kobayashi (Sasha Braus in Attack on Titan)
Touka Toudou: Hisako Kanemoto (Yayoi Kise/Cure Peace in Smile PreCure!)
Kurono Shinguji: Mariko Higashiuchi (Mica Stuart in Unlimited Fafnir)
Kagami Kusakabe: Yuuka Aisaka (Aika Tsube/Tail Blue in Ore, Twintail ni Narimasu.)
Nene Saikyou: Yuka Iguchi (Index in A Certain Magical Index)
Yuuki Oreki: Izumi Kitta (Tomoko Kuroki in Watamote)
Renren Tomaru: M.A.O (Yuuri Wakasa in School-Live!)
Utakata Misogi: Megumi Han (Hime Shirayuki/Cure Princess in HappinessCharge PreCure!)
Shizuya Kirihara: Yoshitsugu Matsuoka (Kirito in Sword Art Online)
Kuraudo Kurashiki: Yoshimasa Hosoya (Jyunpei Hyuga in Kuroko's Basketball)
Ouma Kurogane: Kinryu Arimoto (Whitebeard in One Piece)
1st PV
Main staff:
Director: Shin Oonuma (Fate/kaleid liner Prisma Illya, No-Rin, Watamote)
Series Director: Jin Tamamura (Invaders of the Rokujyouma!? series director)
Series composition: Shogo Yasukawa (Terra Formars, Shokugeki no Soma)
Character design: Sei Komatsubara (A Certain Scientific Railgun S episode animation director)
Sound director: Jin Aketagawa (Magic Capsule)
Anime production: SILVER LINK./NEXUS
Source: "A Chivalry of a Failed Knight" TV anime official website
© Riku Misora, SB Creative/"Rakudai Kishi no Eiyuutan" Production Committee