All 3 titles available now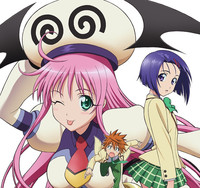 The ever-expanding back catalog of anime at Crunchyroll gets three new additions today in the form of a trio of titles from the To Love Ru series, based on the manga written by Saki Hasemi and illustrated by Kentaro Yabuki. All three titles -- To Love Ru, Motto To Love Ru AND To Love Ru Darkness -- are available NOW for members in the US and Canada!
Rito Yuki had no idea the planet Develuke even existed when their Princess Lala teleported into his bathtub, but now he finds himself to be engaged to the beautiful girl with a pointed tail. Problem: various aliens are showing up on missions of varying hostile intent. Worse, the girl that Rito REALLY loves is still completely unaware of his feelings!


The interstellar insanity continues! Princess Lala has finally started to admit her true feelings for the young man she's inexplicably engaged to. Unfortunately, her sometimes erratic technology added with the snags and snarls of intergalactic politics are still causing major problems. Love takes a quantum shift into the wrong gear and the star brakes are broken in the extra-special, extra-crazy extraterrestrial romance to end them all, Motto To LoveRu!



Rito Yuki has more women in his life than he knows what to do with. In case it wasn't enough to have all three Devilukean princesses under one roof, he now has alien girls from all over the galaxy attending his school, too! But when the arrival of a mysterious red-haired girl threatens one of their own, Rito and the girls must stand up to a powerful adversary- the likes of which they've never seen before.
------
Patrick Macias is editor in chief of Crunchyroll News and Otaku USA magazine. He is also the author of the HYPERSONIC music club webcomic.