Containing 5 films and 2 OVAs released from 1995 to 2001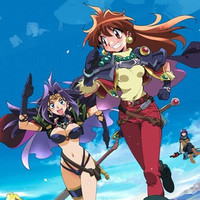 Kadokawa has posted a 30-second CM for the upcoming digitally-remastered Blu-ray box of the five anime films and two OVA series based on Hajime Kanzaka's popular light novel series Slayers narrated by Lina Inverse (CV: Megumi Hayashibara) and Naga the White Serpent (Maria Kawamura).
The 38,000 yen set newly remastered from the original 35mm negative films will be released on October 30. The novel's original illustrator Rui Araizumi provides its box illustration, while the anime character designer/animation director Takahiro Yoshimatsu draws its digi-pack jackets.
The set contains:
"Slayers Perfect" (1995 film)
"Slayers Return" (1996 film)
"Slayers Great" (1997 film)
"Slayers Gorgeous" (1998 film)
"Slayers Premium" (2001 film)
"Slayers Special" (1996 OVA: 3 episodes)
"Slayers Excellent (1998 OVA: 3 episode)
Box illustration
© Hajime Kanzaka, Rui Araizumi/"Slayers" Production Committee