"The Kurosagi Corpse Delivery Service:" Omnibus Edition Book Three and "Vampire Hunter D" Volume 23: Iriya the Berserker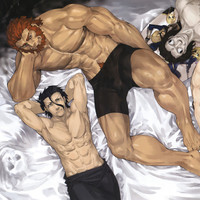 North American publisher Dark Horse's solicitation for December comics and February collection and graphic novel releases. Of note, this release slate features their release of the first volume of Fate/zero's manga adaption, along the collection of Berserk author Kentaro Miura's far future sci-fi fantasy Giganto Maxia.
The battle for the Holy Grail begins!
Fate/Zero Volume 1 TP
Gen Urobuchi (W), Type-Moon (W), and Shinjiro (A)
On sale Feb 10
FC, 194 pages
$11.99
TP, 5 1/8" x 7 1/4"
Gen Urobuchi and Shinjiro's prequel to Type-Moon's Fate saga! Based on the hit novel and anime series, Fate/Zero is a faithful manga adaptation that includes never-before-seen content! The fourth Holy Grail War has begun, and seven magi must summon heroes from history to battle to the death. Only one pair can claim the Grail, though—and it will grant them their wishes!
• The manga adaptation of Gen Urobuchi and Type-Moon's hit anime and novel series!
• For fans of Blade of the Immortal and Berserk!
FROM THE CREATOR OF BERSERK!
Giganto Maxia TP
Kentaro Miura (W/A/Cover)
On sale Feb 3
b&w, 232 pages
$13.99
TP, 5" x 7"
From Berserk creator Kentaro Miura comes Giganto Maxia, a science-fiction/fantasy manga of titanic proportions! One hundred million years in the future, the Empire of Olympus uses colossal mutant beasts to crush its adversaries. Only the gladiator Delos, the mystic Prome, and the titan Gohra can hope to prevent genocide!
The Kurosagi Corpse Delivery Service: Omnibus Edition Book Three TP
Eiji Otsuka (W), Housui Yamazaki (A), and Bunpei Yorifuji (Cover)
On sale Feb 17
b&w, 632 pages
$19.99
TP, 5 1/8" x 7 1/4" Some manga offer you stories about zombies . . . others, robots . . . others, otaku—but only The Kurosagi Corpse Delivery Service would offer you a story about a zombie-robot otaku! And that's just the first of ten cases the Kurosagi gang encounter in Book Three, as strange-but-true rituals and incidents from Japan's past reemerge as tales of bizarre modern horror! Marriages with the dead . . . human air-defense radar . . . the souls of babies in the bodies of yakuza! And even as a cabal of phantoms seeks to imprison Karatsu's familiar spirit Yaichi, the Delivery Service face perhaps their greatest challenge yet . . . convincing somebody else to join their club so they don't lose their meeting space on campus!
Vampire Hunter D Volume 23: Iriya the Berserker TP
Hideyuki Kikuchi (W) and Yoshitaka Amano (A/Cover)
On sale Feb 17
b&w, 180 pages
$11.99
TP, 5 1/8" x 7 1/4"
She might just look like an ordinary—if beautiful—young woman, but Iriya is anything but ordinary! A ruthless warrior clad in red armor, Iriya is a Hunter determined to exterminate the vampires that were once her parents and siblings. Now, half-vampire, half-human D has to decide to offer his assistance, get out of the way, or have a dangerous battle on his hands!
• A new female action hero joins the Vampire Hunter D mythos!
• The Vampire Hunter D series celebrates its tenth year at Dark Horse!
------
Scott Green is editor and reporter for anime and manga at geek entertainment site Ain't It Cool News. Follow him on Twitter at @aicnanime.