Anohana times and dates TBA, Symphogear G available now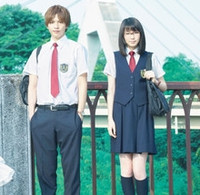 The weekend begins with a new announcement as the live action adaptation of Anohana: The Flower We Saw That Day, based on the novels, anime, and manga written by Mari Okada is set to begin streaming soon at Crunchyroll.
Start date and times are set to be announced later, but that should give you some time to stock up on plenty of boxes of tissue to cry in. Trust us, if the other adaptations of Anohana are any indication, you'll need them!
Story
Jinta Yadomi and his group of childhood friends have become estranged after a tragic accident split them apart. Now in their high school years, a sudden surprise forces each of them to confront their guilt over what happened that day and come to terms with the ghosts of their past.
The Anohana: The Flower We Saw That Day J-Drama will be available to Crunchyroll Members in the USA, Canada, Latin America, South Africa, Australia, New Zealand, and Europe.
Today's other streaming announcement is the catalog title Symphogear G, which is now available for viewing to Members available to Crunchyroll members worldwide except for Asia. Enjoy!
Story
In a world where aliens known as "The Noise" threaten the earth, only one thing can protect the human race: the magical armor Symphogear. But in order to save their world, the Symphogear wearers will have to learn from the tragedies of the past.
------
Patrick Macias is editor in chief of Crunchyroll News and Otaku USA magazine. He is also the writer of HYPERSONIC music club and Paranoia Girls.