Kazuyoshi Katayama teams up with Gundam veteran and controversial manga artist Rui Takatou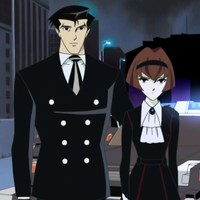 The Japan Animator Expo showcase of shorts from Dwango and Evangelion creator Hideaki Anno's Studio Khara has announced that their 33rd short will be "Ragnarok," created, written and directed by Kazuyoshi Katayama (Big O, Doomed Megalopolis). Veteran Gundam designer and Rapxephon director Yutaka Izubuchi is designing the mecha with Rui Takatou (Devilman G, Cynthia The Mission) on character designs.
The episode of "Ragnarok" will be digitally distributed on the official website of Japan Anima (tor)'s Exhibition on Friday September 25th, 2015.
About the episode 33 "Ragnarok"
< Staff >
Original Work, Script Writing, Director: Kazuyoshi Katayama
Robot Design: Yutaka Izubuchi
Character Design: Rui Takatoo
Animation Director: Masami Ozone
Animation Production: Bridge
< Story >
This is the story of the future a little bit ahead.
The Japanese representative robot, demonstrated at the venue of The International Giant Robot Exhibition in Odaiba, goes out of control due to an unknown cause and destroys buildings around the venue.
The police and Japan Self-Defence force cannot stop the robot, and the American and Russian robots are sent out to save the situation along with the request from Japanese government and the exhibition association office.
However, because of the horrible power of the Japanese robot, a fight has begun between them.
They fire missiles and shoot energy beam, which should not be loaded, and the area around the venue becomes a battle field.
The UK, Chinese and German robots become victims of the circumstance and jump into the battle.
The situation gets into a battle royal.
Who will be a survivor?
-----
Scott Green is editor and reporter for anime and manga at geek entertainment site Ain't It Cool News. Follow him on Twitter at @aicnanime.