Press conference will be live-streamed on October 29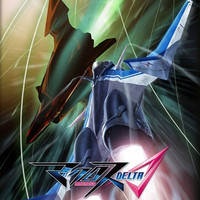 The official portal site for the Macross anime series announced today on September 25 that the title of the upcoming new TV series will be Macross Δ (Delta), revealing its title logo and first main visual. In addition, a press conference with one of the original creators of the 33-year-old franchise, Shouji Kawamori, willl be held at 12:00 on October 29 (JST), and it will be live-streamed (how and where will be announced later).
The winner of the audition for the new main singer/voice actress will be also announced there. The audition was held from December 2014 to January 2015, and a total of 8,000 people applied. It was the highest number in the history of the franchise, even 3,000 more that that for Macross Frontier in 2007 and 5,000 more than the recent "Miss Macross 30 Contest" in 2012. In the 2007 audition, Megumi Nakajima was chosen as the voice and singer for Ranka Lee.
マクロス・シリーズ最新作「マクロスΔ(デルタ)」 正式タイトルと第1弾キービジュアルが発表となりました! 随時、最新作「マクロスΔ(デルタ)」に関する情報を発信して参ります!ご期待ください!! macross.jp #macross pic.twitter.com/wecITy8mZt

— 「マクロス」公式アカウント (@macrossD) September 25, 2015
Source: "Macross" series portal site