Filmed at Makuhari Messe on April 4, 2015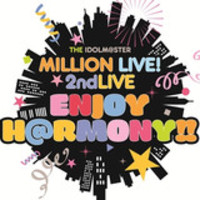 Back on April 4 and 5 in 2015, The [email protected] Million Live! social game franchise held two-day concert titled "The [email protected] Million Live! 2nd Live Enjoy [email protected]!!" featuring its voice actresses at Makuhari Messe Event Hall in Chiba Prefecture. The game started its service in February 2013, and "Enjoy [email protected]!!" was their first solo arena concert.
Lantis is scheduled to release Blu-ray discs of the concert in three editions on December 16, 2015. The 20,000-yen limited "Complete [email protected]" edition contains both performance of the two days, while the 8,000-yen "Day 1" disc has the April 4 performance and the "Day 2" with the same price has the April 5. Check a 13-minute digest video of the first day performance featuring Haruka Yamazaki (Mirai Kasuga), Azusa Tadokoro (Shizuka Mogami), Machico (Tsubasa Ibuki), Momo Asakura (Serika Hakozaki), Sora Amamiya (Shiho Kitazawa), Miku Ito (Yuriko Nanao), Shiina Natsukawa (Anna Mochizuki), Yukiyo Fujii (Megumi Tokoro), Yui Watabe (Nao Yokoyama), Ibuki Kido (kana Yabuki),
Kotori Koiwai (Tomoka Tenkubashi), Yuri Komagata (Sayoko Takayama), Yui Kondo (Karen Shinomiya),
Megumi Toda (Ayumu Maihama), Rikako Yamaguchi (Rio Momose).
Day 1 Digest
15-second CM
© Toshiyuki Kubooka ©BANDAI NAMCO Games Inc. ©BNGI/PROJECT [email protected]