3,780-yen item will be shipped in February 2016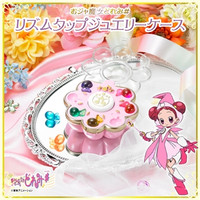 Following the well-received "Peperuto Poron Bag Charm" based on the first season item and released in December 2014, Bandai's official online store Bandai Premium today starts accepting pre-orders for "Ojamajo Doremi # Rhythm Tap Jewelry Case" inspired by the transformation item appeared in Ojamajo Doremi #, the 49-episode second season of Toei Animation's Ojamajo Doremi magical girl TV anime series aired in 2000-2001.
The 3,780-yen (about 32 US dollars) item is about same size with the original Rhythm Tap toy released 15 years ago when the anime was aired. Its scheduled shipping date is February 2016.
"Ojamajo Doremi #" DVD Collection Part 1 & 2
"Peperuto Poron Bag Charm" released in December 2014
Source: press release
© Toei Animation