10th anniversary single is just released today in Japan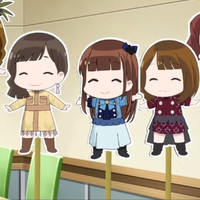 Following the lead track "Be with you" introduced last week, five-member voice actress unit Aice⁵ has also posted a music video for one of their 7th single's coupling songs, "Anata no Okuchi ni Aice⁵ Cream," featuring anime chibi-chara versions of themselves. The song uses the same melody line with "Anata no Omimi ni Plug In!," the ED song for the anime VA-themed TV anime Sore ga Seiyu!. Their long-awaited new single is just released from King Records today in Japan.
The unit was founded by Yui Horie in October 2005 and released six singles and one album from King Records during its two-year active period. All of the original five members: Horie, Chiaki Takahashi, Akemi Kanda, Masumi Asano, and Madoka Kimura have returned for the 10th anniversary project this fall.
"Anata no Okuchi ni Aice⁵ Cream" MV
"Be with you" short MV
CD single jacket
via: Music Natalie
© Copyright King Record.Co.,Ltd.