Starts Sunday October 4 at 7:00am Pacific Time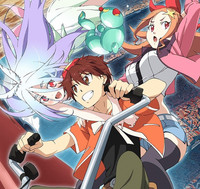 A day of new announcements comes to a close at Crunchyroll with word that Comet Lucifer, an original anime by Bandai Visual and 8-bit, is set to begin streaming on Crunchyroll every Sunday starting October 4 at 7:00am Pacific Time. For more information, visit www.crunchyroll.com/comet-lucifer.
About Comet Lucifer
An original anime by Bandai Visual & 8-bit, Comet Lucifer is a fantasy set on the planet Gift, where precious crystals called Giftjium are buried in the earth. The main character Sogo lives in a prosperous mining town, Garden Indigo, and loves to collect rare crystals. One day, he gets caught up in a dispute between his classmates, and somehow loses his way deep in the ruins of a mine. There, he at an underground lake, he discovers a blue-haired girl with red eyes named Felia, and his adventure begins.
Animation production will be handled by 8 Bit, who previously also worked on Absolute Duo and Encouragement of Climb, and Atsushi Nakayama will be directing the series. Sogo will be voiced by Yusuke Kobayashi, who also voiced Zenji Marui from Food Wars! Shokugeki no Soma, and Felia will be voiced by Ayaka Ohashi, who played Kurome in Akame ga Kill!
Comet Lucifer will be available to Crunchyroll members in the following territories: North America and Latin America. Additional territories: Spain, Portugal, and Andora
-------
Patrick Macias is editor in chief of Crunchyroll News & Otaku USA magazine.
He is also the writer of HYPERSONIC music club, Paranoia Girls, & PARK Harajuku: Crisis Team!