But TV anime Blu-ray 1st volume sold only 1,308 units in its first week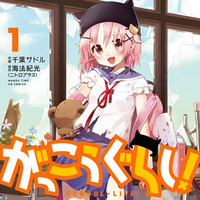 The official Twitter of Houbunsha's Manga Time Kirara magazines has announced that the Gakkou Gurashi!/School-Live! moe-survival manga series has had 1.2 million copies in print, with a photo of the newest wrap-around band announcing the news. The manga is created by Nitroplus' Norimitsu Kaihou (story) and Sadoru Chiba (art), and has been serialized in Houbunsha's Manga Time Kirara Forward since its July 2012 issue. Its latest seventh volume is scheduled to be released this winter.
TVアニメが最終回を迎えた『がっこうぐらし!』のコミックス新規帯が刷られてきました。そうです!シリーズ累計120万部突破です!!皆様の声援に感謝しますとともに、好評発売中のBlu-ray&DVD第1巻もよろしくお願いします!(P) pic.twitter.com/GGOxXcOd10

— まんがタイムきらら編集部 (@mangatimekirara) September 29, 2015
As reported, the sales of the based manga's first volume in the week of July 6-12, after the broadcast
of the first episode of its TV anime adaptation produced by Lerche, increased about 10 times more than
the previous week of June 29 to July 5. Meanwhile, the anime first episode has already been viewed an
amazing 2.5 million times on Nico Nico Douga.
Despite the high expectation, according to the latest Oricon sales report, the TV anime's first DVD/Blu-ray
volume released on September 26 sold only 1,653 units in total (DVD: 345, Blu-ray: 1,308) in its first week.
The volume contains the anime's first two episodes, and the list prices are 6,800 yen (about 57 US dollars)
for the Blu-ray, 5,800 yen (48 US dollars) for the DVD.
The top-selling first Blu-ray volume in the summer 2015 TV anime was Charlotte, which sold 7,046 units
ranking 3rd in the Oricon overall Blu-ray sales chart. If the sales of School-Live! DVD/Blu-ray keeps going
on this rate (probably getting lower), there will be not much possibilities for the second season.
Manga tankobon 1st and 6th volume covers
TV anime Blu-ray 1st and 2nd volume
CMs for the DVD/Blu-ray
Source: Manga Time Kirara official Twitter, Oricon
© Nitroplus/Norimitsu Kaihou, Sadoru Chiba, Houbunsha