Episode 1 of "Kagewani" + all episodes of "A Lull in the Sea" available now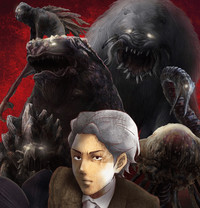 We've got another title announcement coming today with Kagewani! Episode 1 will be launching at 6pm Pacific Time, and starting from episode 2, new epiosdes will be available on Fridays at 8:50am Pacific Time.

Kagewani will be available to Crunchyroll audiences worldwide except for Asia.



An original series that's part of the Ultra Super Anime Time, Kagewani is being directed by Tomoya Takashima and written by Hiromu Kumamoto, both of whom have had plenty of experience with creepy suspense anime shorts, having both worked on the Yamishibai: Japanese Ghost Stories series. The plot centers on mysterious monsters called "UMA" that suddenly appear and start attacking humans.


Scientist Sosuke Banba pursues the truth with the keyword "kagewani", which means "Shadow Crocodile" in Japanese.
Veteran voice actor Tomokazu Sugita, also known as Gintoki Sakata in Gintama, stars as the scientist Sosuke with newcomer studio Tomovies will be handing the animation production.
Aaaand, one more for the weekend, the English dub of A Lull in the Sea, is now available for members in the US and Canada! Free members can watch up to episode 6, and Premium members able to view the entire series.



Long ago, humans lived in the sea. However, some humans defied the Sea God and moved to the land, creating the division that now exists between Shioshishio, the Sea Village, and Oshiooshi, the village of the land. Now, four middle school students from the Sea Village, Manaka Mukaido, Hikari Sakishima, Chisaki Hiradaira, and Kaname Isaki must attend Mihama Middle School on the land. While getting used to their new lives, these four and their new friend from the land, Tsumugu Kihara, learn how true bonds of love and friendship can overcome any separation.