Plus, updated details on DIABOLIK LOVERS Ⅱ : MORE,BLOOD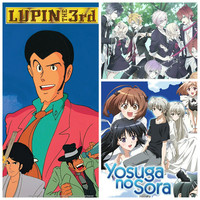 Crunchyroll's ever-growing back catalog of anime gets an upgrade in the form of two classic series featuring master criminal Lupin the Third. Also, the 12 episode series Yosuga no Sora has been added as well! Finally, we have full details regarding DIABOLIK LOVERS Ⅱ : MORE,BLOOD including date, time, and regions. Read on for all the info!
Lupin the Third Part One is available for all users now in the US and Canada. All of Lupin the Third Part 3 is available to premium users now, while free users can now enjoy the first half of the series. Both are available to users in the USA and Canada.
About Lupin the Third Part 1
With the help of some quick gunplay by his partner Jigen, Lupin takes on the world in elaborate heists, classic car chases, and nasty explosions. Fujiko, a buxom redhead with a penchant for betrayal, always gets tangled up in Lupin's capers. The stoic but swift swordman Goemon is just as inclined to kill Lupin as he is to help him. And Lupin can never seem to lose the relentless Tokyo Police Inspector Zenigata.
About Lupin the Third Part Three
Five years have passed since master thief Lupin and his gang made their daring escape out of Japan and went their separate ways. Then one day Lupin, Jigen, Goemon and Fujiko each receive an invitation from Lupin for a reunion, aboard the luxury liner Sirloin. Reunited on the ship, they discover Lupin didn't send the invitations and the reunion is a trap, plotted by a vengeful Mister X, the Leader of the Scorpion Gang! Foiling Mister X's plot while evading his nemesis, Inspector Zenigata, is all in a day's work for Lupin and his gang, as their heisting adventures around the globe begin again!
Meanwhile, the 2010 12 episode series Yosuga no Sora: In Solitude Where We are Least Alone, based on the romance/drama adult visual novel, has also been added to the catalog and is available for premium viewers in the United States and Canada.
About Yosuga no Sora: In Solitude Where We are Least Alone
After losing both of their parents in an accident, Haruka and his twin sister Sora move out of the city to the rural town where they spent their childhood summers. In their new home, everything seems peaceful until Haruka discovers a special, forbidden love that may disrupt the entire town!
LASTLY and FINALLY we have an update and more details on the upcoming stream of DIABOLIK LOVERS Ⅱ : MORE,BLOOD, which was announced as an acquisition at last weekend's Anime Weekend Atlanta.
DIABOLIK LOVERS Ⅱ : MORE,BLOOD is set to premier exclusively on Crunchyroll every Sunday starting October 4 at 8:15am Pacific Time. For more information, visit www.crunchyroll.com/diabolik-lovers-moreblood when the show page goes live…
About DIABOLIK LOVERS Ⅱ : MORE,BLOOD
Based off of a drama CD and PSPS game, the Diabolik Lovers series centers around the six sadistic Sakamaki vampire brothers, and the positive and kind-hearted heroine, Yui Komori. Due to her father's work, she has to transfer to a new school, and ends up living with the Sakamaki brothers.
The second season introduces a new cast of brothers, the Mukami brothers, who are voiced by an all-star male cast, including Takahiro Sakurai, Ryohei Kimura, Tatsuhisa Suzuki, and Daisuke Kishio as Ruki Mukami, Kou Mukami, Yuma Mukami, and Azusa Mukami, respectively.
DIABOLIK LOVERS Ⅱ : MORE,BLOOD will be available to Crunchyroll members in the following territories: North America, United Kingdom, Ireland, Australia, New Zealand, South Africa, Latin America, Scandinavia, the Netherlands, and Turkey.
-------
Patrick Macias is editor in chief of Crunchyroll News & Otaku USA magazine.
He is also the writer of HYPERSONIC music club, Paranoia Girls, & PARK Harajuku: Crisis Team!