Starts Sunday October 11 at 1:30am Pacific Time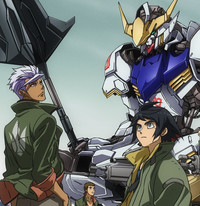 The mighty magnificent Mobile Suit Gundam franchise returns to Crunchyroll in its latest anime incarnation as MOBILE SUIT GUNDAM IRON-BLOODED ORPHANS is set to stream on Crunchyroll every Sunday starting October 11 at 1:30am Pacific Time. The official show page (which is not live yet...we know) will be www.crunchyroll.com/g-tekketsu.
About MOBILE SUIT GUNDAM IRON-BLOODED ORPHANS
The latest entry in the famed Mobile Suit Gundam series, MOBILE SUIT GUNDAM Iron-Blooded Orphans brings together again director Tatsuyuki Nagai and series writer Mari Okada, both of whom have worked together in the past on titles such as Anohana: The Flower We Saw That Day and Toradora!
The story takes place more than 300 years after a great war between the Earth and Mars known as the "Calamity War," has happened, with Mars having been successfully terraformed and colonized by humans. However, even with such technological advancements, the humans of Mars want freedom from the Earth's government. Mikazuki Angus is part of a group of children who work for a civilian security company Chryse Guard Security (CGS) tasked with the safety of the Kudelia Aina Bernstein, who wants Martian city of Chryse to be free from Earth's government. One day, the CGS, is attacked by Gjallarhorn against Martian independence, and Mikazuki must choose to follow his friend who decides to rebel against the CGS, or see his mission through as he stumbles upon the legendary mobile suit, the Gundam Barbatos.
MOBILE SUIT GUNDAM Iron-Blooded Orphans will be available to Crunchyroll members in the following territories: United States, Canada, Latin America, Australia, New Zealand, Europe, South Africa, the Middle East, and North Africa.
-------
Patrick Macias is editor in chief of Crunchyroll News & Otaku USA magazine.
He is also the writer of HYPERSONIC music club, Paranoia Girls, & PARK Harajuku: Crisis Team!