AKB 48 member Mariya Nagao is cast as Krul Tepes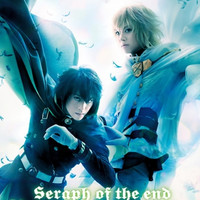 The cast and main visual for the upcoming musical adaptation of the Owari no Seraph/Seraph of the End dark fantasy manga are reveled to Japanese media today. 23-year-old Gaku Sano (Kouta Kazuraba/Kamen Rider Gaim in Kamen Rider Gaim) plays Yuichiro Hyakuya, alongside 22-year-old Katsuhiro Suzuki (Hiromu Sakurada/Red Buster in Tokumei Sentai Go-Busters) as Mikaela Hyakuya.
The musical is written/directed by 36-year-old Muck Akazawa, who is now directing a musical adaptation of Tooru Fujisawa's school action manga series Kamen Teacher, titled "Kamen Teacher Silver Mask." It is scheduled to be preformed at AiiA 2.5 Theater Tokyo from February 2 to 11, 2016. 7,800-yen advance tickets will go on sale on December 13.
Main visual
Main cast:
Yuichiro Hyakuya: Gaku Sano (Kamen Rider Gaim)
Mikaela Hyakuya: Katsuhiro Suzuki (Tokumei Sentai Go-Busters)
Guren Ichinose: Kento Ono (Hyde/Gosei Blue in Tensou Sentai Goseiger)
Mitsuba Sangu: Karen Miyama (Momo Miyaura in A Letter to Momo)
Shihou Kimizuki: Atomu Mizuishi (Renji Yanagi in The Prince of Tennis Musical)
Yoichi Saotome: Shinichi Hashimoto (Marehiko Itsuki in The Prince of Tennis Musical)
Shinoa Hiiragi: Chihiro Kai
Asuramaru: Saya Chinen
Krul Tepes: Mariya Nagao (AKB48 Team K)
Ferid Bathory: Seijiro Nakamura (Mitsunari Ishida in Sengoku Basara 3)
Flyer visual
Source: "Seraph of The End The Musical" official website via: Comic Natalie
© Takaya Kagami, Yamato Yamamoto, Daisuke Furuya/Shueisha
© "Seraph of The End" The Musical Production Committee 2016