Available on Saturdays at 10:30am Pacific Time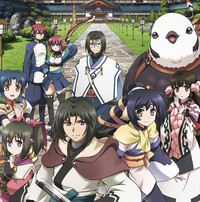 It may be the weekend, but that doesn't stop us from adding even more titles to our Fall 205 Lineup!

UTAWARERUMONO -Itsuwari no Kamen- launched today and will be available on Saturdays at 10:30am Pacific Time for members in the following territories: USA, Canada, United Kingdom, Ireland, Australia, New Zealand, South Africa, Latin America, the Netherlands, Scandinavia, and Turkey.
Based off of the second game in the Utawarerumono series, UTAWARERUMONO –Itsuwari no Kamen- features a nameless protagonist that wakes up in the middle of a vast, snowy plain he doesn't recognize. Not only that, but he is suffering from amnesia and doesn't even remember who he is. Suddenly, he gets attacked by an insect-like creature, but is saved by a girl with animal ears and tail named Kuon, who decides to name him Haku.


The cast includes Keiji Fujiwara, who also voiced Maes Hughes in the Fullmetal Alchemist series and Leorio in the 2011 animation of Hunter x Hunter, as Haku, and Risa Taneda, Mirai Kuriyama in Beyond the Boundary and Rory Mercury inGATE, as Kuon. Both the opening and ending theme songs will be sung by Suara, with "Fuantei na Kamisama" as the opening, and "Yumekautsutsuka" as the ending.