Episode 1 available now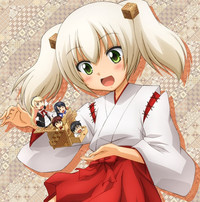 Hot spring sprits descend to earth in the latest streaming anime announcement from Crunchyroll! Hakone, based on the manga Onsen Yosei Hakone-chan by Daisuke Yui, is set to broadcast every Sunday starting today, October 4 at 9:30am Pacific Time. For more information, visit www.crunchyroll.com/hakone.
About Hakone
Based on the manga Onsen Yosei Hakone-chan by Daisuke Yui, Hakone is about the hot spring spirit Hakone whodescended to a spa resort on Earth. Due to her long slumber however, she now looks like a little girl. High school boy Toya stumbles across her at a hot spring and ends up helping Hakone retrieving her original powers.
The anime features Saki Ono, also known as President Unko from Himegoto, as the titular Hakone, and Taishi Murata, who also voiced Shun Ibusaki in Food Wars! Shokugeki no Soma, as Toya. The opening theme song will be "Hakone Hakoiri Musume" sing by petit milady.
Hakone will be available to Crunchyroll members worldwide except for Asia.
-------
Patrick Macias is editor in chief of Crunchyroll News & Otaku USA magazine.
He is also the writer of HYPERSONIC music club, Paranoia Girls, & PARK Harajuku: Crisis Team!