Now everyone can transform into Super Sailor Moon!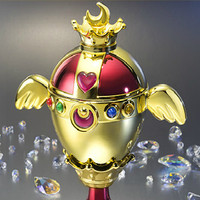 The Proplica line of Sailor Moon replica items has several great-looking reproductions of magical items from the seminal shoujo series, and its latest addition is no different. The latest Proplica item is Sailor Moon's Rainbow Moon Chalice.
Sailor Moon uses the chalice (or the Holy Grail, as it's sometimes referred to) to transform into Super Sailor Moon. The chalice replica is recreated with detail down to the colors on the front and sides of the cup as well as its flashing lights and sounds that correspond to Super Sailor Moon's transformation.
Preorders for the chalice begin on October 8, though there's not been a price set just yet, and the orders will begin shipping in February 2016. You can add it to your collection of Sailor Moon replicas and have an entire arsenal of Sailor Moon's weapons and transformational items. Hopefully the Kaleidomoonscope is next!
[via Anime News Network]
-------
Fueled by horror, rainbow-sugar-pixel-rushes, and video games, Brittany is a freelancer who thrives on surrealism and ultraviolence. Follow her on Twitter @MolotovCupcake and check out her portfolio for more.