El filme se estrenará el 31 de octubre.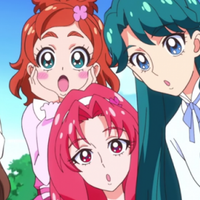 La web oficial de la próxima película Eiga Go! Princess Precure Go! Go!! Goka 3-bon Date!! ha colgado un anuncio de 30 segundos en el que podemos escuchar el tema "Kira Kira" de Every Little Thing.
El filme se estrenará el 31 de octubre, siendo la película número 19 de la franquicia. Como el título indica, la película será la primera de la franquicia en estar compuesta por tres partes. Al estrenarse la película en Halloween, las tres partes tendrán dicha fiesta como temática.
"Pumpkin Okoku no Takaramono" estará animada con estilo cel y en ella las chicas Precure partirán al rescate de una princesa secuestrada.
"Precure to Refi no Wonder Night!" estará animada completamente en CG. En esta historia, el reino de la noche pierde sus horas de día, y las chicas Precure lucharán junto a la Princesa Rafi para recuperarlas. Hinata Uegaki será la voz de la Princesa Refi, una niña de 11 años reconocida por ser Nala en la versión japonesa del musical de El Rey León.
"Cure Flora to Itazura Kagami" será también en CG, siendo una historia corta sin diálogos y con personajes en versión super deformed. Cure Flora interactuará con un juguetón espíritu que reside en un espejo.
Fuente: ANN