Not one, not two... but five new announcements for the Fall 2015 lineup!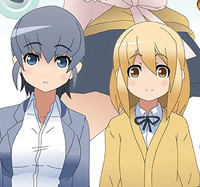 Good morning and welcome to a Monday with not just 1, not 2, but 5 announcements for our Fall 2015 lineup!

First off is everyone's favorite butt-chomping bugs, Bottom Biting Bug 4 launched this morning, with new episodes every Monday at 5:25am Pacific Time, for members in the following regions: U.S.A., Canada, United Kingdom, Ireland, South Africa, Australia, New Zealand, Denmark, Finland, Netherlands, Norway, Sweden, Latin America (Central and South America including Caribbean), Austria, Germany, Liechtenstein, Luxembourg, Switzerland, Belgium, Italy, Poland, Czech Republic, Hungary, Romania, France, French DOM-TOM, Andorra, Algeria, Tunisia and Morocco.



Everyone's favorite butt-biting bug family is back, with Bottom Biting Bug 4! Bottom Biting Bug XVIII, who is age 10, loves to sing and dance happily more than anything else in the world. When someone who is bitten by a bottom biting bug, they cheer up until they suddenly seem like a different person!

Bottom Biting Bug was created by artistic duo UrumaDelvi, who wrote and recorded the children's song Oshiri Kajiri Mushi and also animated the music video that serves as the basis for the series. The song exploded in popularity, going on to sell over 300,000 CDs and breaking into the Oricon singles chart's top 10, as well as hitting over 1.5 million downloads.


* * * * * *

Next up, we have Peeping Life TV Season 1??, now available with new episodes launching on Saturdays at 12:30pm Pacific Time for members in the following territories: United States (and its territories), Canada, Latin America (Central and South America including Caribbean),United Kingdom, Ireland, Australia, New Zealand, Scandinavia, and the Netherlands.



Heroes from worlds of Tezuka Production and Tatsunoko Production "evolved" for their TV appearance.


* * * * *

Fans of eating and cooking, rejoice as JK-MESHI! comes to Crunchyroll, with new episodes airing every Monday at 10:35am Pacific Time for members worldwide except for Japan and China.



In Japanese, "JK" is an abbreviation for "joshi kousei", or high school girl, and "meshi" means "cooked rice" or "meal", so it is only suitable that the anime focuses on 3 high school girls, Reina, Ryoka, and Ruriko, who have mastered the art of cooking simple, B-class dishes called JK meshi. Cooking enthusiasts or those who simply want to learn will want to tune in to this show, as the anime will show viewers how to cook dishes by showing common ingredients and simple, easy-to-learn steps.

JK-MESHI! casts newcomer Natsuko Hara as Reina Saeki, Nao Fujita, who voiced Rakko in Nukko., as Ryoka Asahina, and Sora Tokui, who voiced Nero Yuzurisaki in the Tantei Opera Milky Holmes series, as Ruriko Igarashi.


* * * * *

More comedy comes to Crunchyroll with Mr. Osotmatsu, as new episodes air every Monday at 10:45am Pacific Timefor users worldwide except for Asia.



Mr. Osomatsu is based off of the gag manga series Osomatsu-kun by Fujio Akatsuka, and ran from 1962 to 1969. The series features a set of sextuplets, the Matsuno brothers, with Osomatsu being the oldest brother and leader of the group.

While the boys were 10 years old in the original manga, Mr. Osomatsu features the brothers after they've grown up, with famed voice actor Takahiro Sakurai, also known as Suzuaku Kururugi in Code Geass and Polar Bear in Polar Bear Café, voicing the titular Osomatsu. Studio Pierrot, who had previously animated the previous two anime series based on the manga, is once again returning for animation production on Mr. Osomatsu.


* * * * *

last, but certainly not least, the third season of YuruYuri comes back to Crunchyroll, with new episodes airingMondays at 11:15am Pacific Time for Crunchyroll Premium members worldwide except for Japan, and free users worldwide ex Asia.



The third season of YuruYuri continues the adventures of the four schoolgirls, Akari Akaza, Kyoko Toshino, Yui Funami, and Chinatsu Yoshikawa, who take over the former room of a tea ceremony club and turn it into their own Amusement Club!

The voice actresses all return for their roles, including Shiori Mikami as Akari, Yuka Otsubo as Kyoko, Minami Tsuda as Yui, and Rumi Ookubo as Chinatsu. The opening and ending themes are both sung by the girls' voice actresses, the unit Nanamori Chu☆Goraku-Bu, with "Chochocho! Yuruyuri Kapuriccho!!" as the opening, and "Acchu~ma Seishun!" as the ending.
As always, don't forget to keep checking back to Crunchyroll as we continue to announce more additions to our Fall Lineup!