"Arpeggio of Blue Steel -Ars Nova Cadenza-" ranks 7th only with 60 screens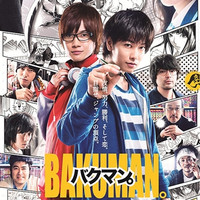 The live-action film adaptation of the Bakuman. manga series, created by Tsugumi Ohba (story) and Takeshi Obata (art), released in Japan on October 3 on 325 screens, taking No.1 in its first weekend box office with 251,607,900 yen on 184,263 admissions, which was 108 percent of last week's winner Heroine Shikkaku. Bakuman. is expected to reach the same level of box office success with the director Hitoshi Ohne's 2011 film Moteki, which made 2.22 billion yen from its total domestic run.
Heroine Shikkaku dropped to the second, but its total grossing has already reached an impressive 1.5 billion yen. Meanwhile, Attack on Titan: End of The World on the third place has made only 1.2 billion yen by its third weekend. It is probably difficult for the critically-savaged film to make even a half of the first film's 3.3 billion yen.
The all-new feature film Arpeggio of Blue Steel -Ars Nova Cadenza- was also released in Japan last
weekend. In spite of its limited release only with 60 screens, it ranked 7th, grossing a very good 67,525,150
yen on 42,170 admissions, with a per-screen average of 1130,000 yen.
"Bakuman." trailer
"Arpeggio of Blue Steel -Ars Nova Cadenza-" 2nd teaser
Source: Eiga.com, Movie Walker