Series to stream every Wednesday starting October 7 at 4:00am Pacific Time.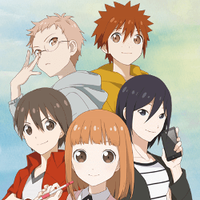 Crunchyroll continues to add to its already sizable Fall simulcast line up with the latest acquisition in Tantei Team KZ Jiken Note being added to Crunchyroll's library beginning early Wednesday morning at 4am Pacific Time.
Based on the children's detective novel by Hitomi Fujimoto and Ryo Sumitaki, Tantei Team KZ Jiken Note centers on sixth grader Aya Tachibana who worries about friends, family, grades, and more. One day, she joins the Detective Team KZ with four very unique boys that she met in cram school: Kazuomi Wakatake, Takakazu Kuroki, Kazunori Uesagi, and Kazuhiko Kozuka.
The show's cast features Yuiko Tastumi as Aya, Soma Saito as Kazuomi, Takuma Terashima as Takakazu Kuroki, Kotaro Nishiyama as Kazunori, and Mitsuhiro Ichiki as Kazuhiko. The opening theme will be "Nankai!Mystery" by Diana Garnet.
Tantei Team KZ Jiken Note will be available to Crunchyroll members in the following territories: United States, Canada, Central and South America (including the Caribbean), South Africa, Australia, New Zealand, Europe, the Middle East and North Africa.