First No.1 for the VA unit μ's in the overall chart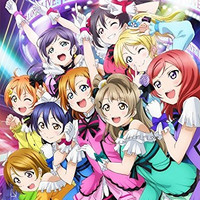 According to the latest Oricon report, "μ's Go→Go! LoveLive! 2015 ~Dream Sensation!~ Blu-ray Memorial BOX," the four-disc set of the latest live Blu-ray featuring the concerts of the nine-member VA unit from the Love Live! franchise, sold 49,000 units in its first week, taking No.1 in the weekly overall Blu-ray sale chart. The set was released in Japan at the very high price of 19,940 yen (about 166 US dollars) on September 30. The discs contain the VA unit's concerts held at Saitama Super Arena (capacity: 37,000) on January 31 and February 1, 2015.
This is the first No.1 for their live Blu-ray in the overall sales chart, the previous highest ranking was 3rd marked by "μ's 3rd Anniversary Love Live! Blu-ray" in January 2014. And it also marked the best first week sales record, surpassing the previous record of 31,000 units by "μ's →NEXT Love Live! 2014~ENDLESS PARADE~ Blu-ray Disc" in August 2014.
Day 1 Digest
Day 2 Digest
DVD/Blu-ray single day disc jacket illustration
Blu-ray Memorial Box illustration
Source: Oricon Style
© 2015 Project Love Live!