Ganjii illustrates the novel adaptation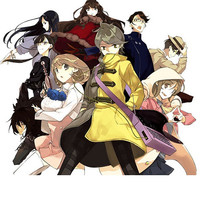 This year's November issue of manga magazine Good! Afternoon, out in Japan October 7th, is launching the manga adaptation of Chiyomaru Shikura's "paranormal science" novel Occultic;Nine. Though not the proper fourth "science adventure," following Chaos;Head, Steins;Gate and Robotics;Notes, the story was designated the fourth in the Shikura line of works. More after the jump.
Ganjii (Code Geass: Tales of an Alternate Shogunate, Soukou Akki Muramasa: Makai-hen) illustrates the adaptations. Pako (Un-Go, Rental Magica) illustrated the book from Overlap and 5pband is credited with original character designs.
A March MAGES/Chiyomaru Shikura event revealed plans for a game adaptation of the novel featuring:
Yuuta Gamon (CV: Yuuki Kaji) - unkempt 17-year-old self-proclaimed NEET God and paranormal science blogger.
Sarai Hashioue (CV: Kaito Ishikawa), a 19-year-old university freshman, living in Kichijouji. Insists on a direct approach to things and hates fantasy. Goes online under the handle SARAI.
Ryouka Narusawa (CV: Ayane Sakura), a naive sixteen-year-old highschool freshman who dreams of being a singer. Goes online under the handle Ryoutasu.
Miyu Aikawa (CV: Hitomi Yoshida) , sixteen-year-old moe star of NicoNico fortune telling videos. Goes online under the handle Myu.
Toko Sumikaze - Shizuka Itou
Aria Kurenaino - Miyuki Sawashiro
Kiryu Kusakabe - Kisho Taniyama
Ririka Nishizono - Mamiko Noto
Shun Moritsuka - Tetsuya Kakihara
------
Scott Green is editor and reporter for anime and manga at geek entertainment site Ain't It Cool News. Follow him on Twitter at @aicnanime.