Launch time and date TBA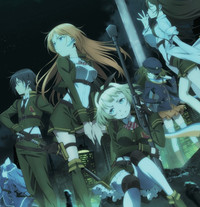 Yet another new anime announcement leaps out of Crunchyroll today in the form of Anti-Magic Academy: The 35th Test Platoon! Launch time and date (along with show page) will be announced soon, so definitely check back for details, but here's what we know for now...
About Anti-Magic Academy: The 35th Test Platoon
Set in a world where witches run havoc, the military decides to shift from using sword to utilizing guns to neutralize magical threats. The Anti-Magic Academy is an institution that specializes in training witch hunters. Takeru Kusunagi, who can't use guns and continues to fight with a sword, is relegated to the 35th Test Platoon, a motley group who can't cooperate. One day, Ouka Ohtori, an elite pistol master who was forced into demotion, joins the platoon. Will they be able to gather their strengths and work together?
Animation production will be done at SILVER LINK. who has produced titles such as Fate/kaleid liner Prisma Illya and Strike the Blood. Yoshimasa Hosoya (Attack on Titan, Kids on the Slope) will be voicing Takeru Kusunagi, while Reina Ueda (Actually, I Am) will play the elite marksman Ouka Ohtori. They are joined by Ryoko Shiraishi (Wagnaria!!) and Rumi Okubo who play Ikaruga Suginami and Usagi Saionji respectively. The opening theme song will be performed by Afilia Saga (Isuca) and the ending will be performed by Kanako Ito (School Days, Steins;Gate).
Anti-Magic Academy: The 35th Test Platoon will be available to Crunchyroll members world wide excluding Asia, Australia, New Zealand, Spain, Portugal, German speaking territories and French speaking territories.
-------
Patrick Macias is editor in chief of Crunchyroll News & Otaku USA magazine.
He is also the writer of HYPERSONIC music club, Paranoia Girls, & PARK Harajuku: Crisis Team!