Times and dates TBA!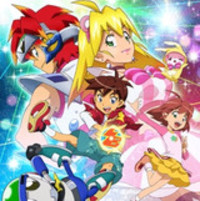 Happy Friday everyone, as we've got some more acquisitions for the Fall 2015 Lineup to get you ready for the weekend! Details will be announced at a later time, so don't forget to check back for details!

First up, we've got the dance anime Brave Beats, by the same team who brought you Tribe Cool Crew!



Summary (Courtesy of ANN):

Hibiki Kazaguruma is a sixth grader who meets an amusing little robot named Bureikin while coming home from school one day. Bureikin, a dancer from an alternate-dimension dance world, challenged the dance king for the throne and lost. He has been deprived of Dance Stones (the stones of dance power) and sent to the human world. To restore his power, Bureikin must collect all the Dance Stones scattered around Earth. Meanwhile, the Dance Stones cause chaos on the human world. To retrieve the Dance Stones, Bureikin fuses with Hibiki and transforms into a Dance Hero.


* * * *

Next up, it's time to train with the girls of Anime de Training EX!



Get your workout on as we follow 5 girls who are aiming to become idols, and who practice different kinds of exercises, such as push-ups, sit-ups, back extensions, dance, yoga, stretching, trunk training, and Tai Chi.


* * * * *

Finally, a blast from the past as we have the J-Drama Angel Heart, based on the manga by Tsukasa Hojo, author of the popular City Hunter series!



Tsukasa Hojo, author of the legendary hard-boiled comics "City Hunter" that boasts total sales of over 50 million copies, creates a parallel world and depicts the same world views in "Angel Heart," which has now been remade into a live-action drama series for the first time ever!

Ryo Saeba, the lead character of "City Hunter," comes off as an easily flattered guy. His true identity is that of a city hunter—a brilliant sweeper. Upon request, he sets out on the streets to "sweep" away the bad guys and teach them a lesson. This is how he earns a living. His partner Kaori Makimura takes care of him and they do everything they can to be there for each other. "Angel Heart" begins where these two find themselves in a desperate situation—Kaori suffers a freak accident, which leads to her untimely demise.

In the midst of all this, a mysterious beautiful girl named Shanin enters Ryo's life. It turns out that Shanin is a heart transplant recipient, and the heart that she received belonged to the brain dead Kaori. Shanin got another chance at life, thanks to Kaori's heart!

Continuing the world views of "City Hunter," "Angel Heart" features a new heroine in the form of a mysterious beautiful girl named Shanin. Just what is Shanin's true identity? As Kaori lives on within Shanin, what will become of her relationship with Ryo?

This is a riveting drama that features hard-boiled moments, suspense-packed scenes, charming characters, and heart-warming episodes. Love between mankind, family love, and a deep emotional connection between people—often forgotten in modern society, are the core themes in this entertainment drama that is sure to capture the hearts of all generations!


As always, don't forget to keep checking back to Crunchyroll as we continue to announce more additions to our Fall Lineup!