Directed by Shutaro Oku (Blood-C The Last Mind)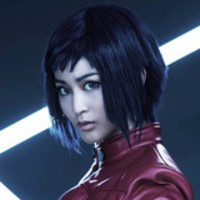 The official website and Twitter for Ghost in The Shell ARISE: GHOST is ALIVE, the upcoming stage play adaptation of the four-part anime film series Ghost in the Shell: ARISE, today posted visuals for the four main characters: Motoko Kusanagi portrayed by Kaede Aono, Ishikawa by Tatsuya Isaka, Aramaki by Ikkyu Jyuku, and Saito by Ryunosuke Matsumura.
39-year-old film director Shutaro Oku, who worked on the stage play Blood-C The Last Mind this July, which was based on the Blood-C anime series, attaches to direct. The original screenplay writer Tow Ubukata supervises the play, while Junichi Fujisaki, who joined the 2002-2003 TV series Ghost in the Shell: Stand Alone Complex, provides the script.
It is scheduled to be performed 14 times at Tokyo Metropolitan Theater Playhouse from November 5 to 15, 2015. Tickets are already available at major ticket agencies at the price of 9,900 yen (about 83 US
dollars) for the premium seat and 6,900 yen (58 US dollars) for the general seat.
Motoko Kusanagi by Kaede Aono
まずは、先日キービジュアル発表で一足早くキャラビジュアルが発表された青野楓さん演じる草薙素子の別カットです! #攻殻機動隊 #攻殻新劇 pic.twitter.com/rNYUNy6AGC

— 舞台「攻殻機動隊ARISE」 (@kokaku_a_stage) October 9, 2015
Ishikawa by Tatsuya Isaka
続いて伊阪達也さん演じるイシカワです! #攻殻機動隊 #攻殻新劇 pic.twitter.com/XyIePKlAp5

— 舞台「攻殻機動隊ARISE」 (@kokaku_a_stage) October 9, 2015
Aramaki by Ikkyu Jyuku
次に塾一久さんがアニメに続いて舞台でも演じる荒巻大輔です! #攻殻機動隊 #攻殻新劇 pic.twitter.com/1tIsjRmeT7

— 舞台「攻殻機動隊ARISE」 (@kokaku_a_stage) October 9, 2015
Saito by Ryunosuke Matsumura
そして松村龍之介さん演じるサイトーです! #攻殻機動隊 #攻殻新劇 pic.twitter.com/g0rgCXauae

— 舞台「攻殻機動隊ARISE」 (@kokaku_a_stage) October 9, 2015
Main Visual
第1弾キービジュアルは青野楓さん演じる草薙素子のビジュアルになります!! pic.twitter.com/So5FM8dff2

— 舞台「攻殻機動隊ARISE」 (@kokaku_a_stage) August 24, 2015
1st CM
Source: "Ghost in The Shell ARISE: GHOST is ALIVE" official Twitter
© Masamune Shirow, Production I.G/Kodansha, "Koukaku Kidoutai Arise" Production Committee