Directed by Shogo Kusano (Karappo)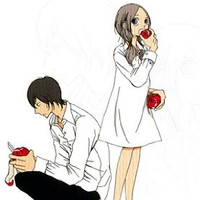 It is announced today that a live-action film adaptation of Yumio Kobayashi's comedy manga Nigakute Amai (Bitter and Sweet) is in the works for a 2016 release. The manga has been serialized in MAG Garden's free web comic magazine EDEN since November 2009 and the latest 11th tankobon volume is scheduled to be released on October 14. A total print of the tankobons in Japan has reached 600,000. The story tells a strange but cheerful communal life between a female office worker Maki Eda who is not god at cooking at all and her gay vegetarian roommate Nagisa Kobayashi.
20-year-old actress Haruna Kawaguchi (Haruhi Fujioka in Ouran High School Host Club TV drama) is cast as Maki, alongside 24-year-old Kento Hayashi (Kou Ichinomiya in Arakawa Under the Bridge live-action film) as Nagisa. 31-year-old Shogo Kusano, whose first feature film Karappo in 2012 was highly acclaimed in film festivals, attaches to direct based on the screenplay by Tomohiro Outoshi (Europe Kikaku).
Manga 1st and 11th volume covers
[映画]川口春奈、ガサツな肉食独身女子に挑戦!林遣都と人気コミック映画化で初共演! http://t.co/1dhAHyLQt1 pic.twitter.com/twzVKMh33U

— シネマトゥデイ (@cinematoday) 2015, 10月 9
via: Cimema Today
© Yumio Kobayashi/2015 MAG Garden corp.