13-song album "PENKI" will be released on December 2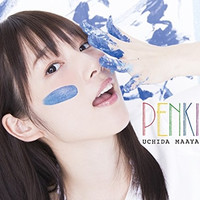 The official website for anime voice actress Maaya Uchida has posted three jacket photos for her upcoming 1st solo album "PENKI" and a sound-only preview for a new song for the album, "Distorted World." The 13-song album also contains her 1st single "Soshou Innocence" (Riddle Story of Devil OP, April 23, 2014 release), 2nd "Gimme! Revolution" (Ore, Twintail ni Narimasu. OP, October 22, 2014), and 3rd "Karappo Capsule" (Comical Psychosomatic Medicine ED song, April 1, 2015), and is set for a release in Japan on December 2.
In this fall 2015 season, she is voicing Sharo Kirima in Is The Order a Rabbit??, Yusa Nishimori/Yusa Kurobane in Charlotte, and Hiyori Iki in Noragami Aragoto.
"Distorted World" preview
Limited edition with Blu-ray
Limited edition with DVD
Regular edition
Message video from Maaya Uchida
1st single "Soushou Innocence" short MV
2nd single "Gimme! Revolution"
3rd single "Karappo Capsule"
Source: Maaya Uchida official website
© Pony Canyon