12-member idol group's 15th single hits stores November 18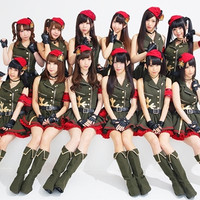 Stand-Up! Records has posted a short version music video for 12-member idol group Afilia Saga's upcoming 15th single "Embrace Blade" on its official YouTube channel. It is now featured as the OP song for the ongoing TV anime adaptation of Touki Yanagimi's supernatural battle-themed light novel series Anti-Magic Academy: The 35th Test Platoon. The group previously performed theme/insert songs for STEINS;GATE, Hyperdimension Neptunia: The Animation, Noucome, and ISUCA. The CD single will be released in five editions on November 18.
The Anti-Magic Academy: The 35th Test Platoon TV anime is now available to Crunchyroll members worldwide excluding Asia, Australia, New Zealand, Spain, Portugal, German speaking territories and French speaking territories.
"Embrace Blade" short MV
Afilia Saga artist photo for the single (C) MAGES.
"Anti-Magic Academy: The 35th Test Platoon" PV featuring the OP song
Source: "Embrace Blade" special site