Out in North America this week with European edition following the 20th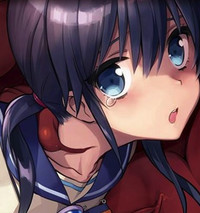 In time for this month's spooky season, XSEED Games released Corpse Party: Blood Drive in North America on October 13th, with the European and Australia follow-up scheduled for the 20th. Available in physical and digital versions, the former features a $49.99 Everafter Edition, which comes packing an over-100-page art book and a two-disc music sampler with tunes from Corpse Party, Corpse Party: Book of Shadows, and Corpse Party: Blood Drive. The latter goes for $39.99.
Check out the accompanying promos...
Corpse Party: Blood Drive will launch this fall in North America exclusively for the PS Vita, both in a limited physical "Everafter Edition" release and digitally via PlayStation®Store.

The final installment of the supernatural story that began with Corpse Party and continued in Corpse Party: Book of Shadows, Corpse Party: Blood Drive ups the ante by allowing players to explore Heavenly Host Elementary in full 3D for the first time, with all of its formerly 2D environments meticulously recreated and greatly expanded. New gameplay systems provide more exciting interactions for players experiencing the gruesome finale to this tale of an inescapable, otherworldly school populated by vengeful spirits, including a dynamic lighting system aided by an in-game flashlight, talismans to protect the player characters from danger, deadly traps to disarm, cabinets to hide in, a stamina system that allows for limited dashing, and much more.
While some members of Kisaragi Academy's class 2-9 survived their trip to the hellish, otherworldly elementary school known as Heavenly Host, many did not... and those who were unfortunate enough to perish within its halls were doomed to remain there forever, eternally reliving the pain they felt at the exact moment of death. Worse still, all memories and records of their existence were wiped from the face of the earth, leaving only those who survived the ordeal to mourn their loss.

The last hope of reverting these miserable fates rested with an ancient tome known as the Book of Shadows, but Ayumi Shinozaki's misguided attempts to employ its power claimed yet another victim, and the book was forever lost in the chaos.

...Or was it? When an acquaintance of the deceased turns up with a spiritual photograph suggesting the Book of Shadows may now reside in the tattered remains of Heavenly Host, Ayumi becomes obsessed with finding it so she can attempt once more to bring back her lost friends…

------
Scott Green is editor and reporter for anime and manga at geek entertainment site Ain't It Cool News. Follow him on Twitter at @aicnanime.