Novel's 8th and manga's 4th volumes were simultaneously released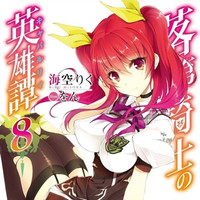 According to the newest rap-around jacket come with the latest fourth volume of its manga adaptation illustrated by Megumi Soramichi, Riku Misora's action fantasy light novel series Rakudai Kishi no Eiyuutan: A Tale Of Worst One/A Chivalry of a Failed Knight, has now reached an astonishing one million copies in print in Japan.
The first volume of the novel series was published from SB Creative's GA Bunko imprint in July 2013. The novel's eighth volume and its manga adaptation's fourth volume were simultaneously released in Japan two days ago, October 14. Back in April 2014 when the manga started its serialization on Square Enix's GanGan Online website, the series' total print run was 250,000 with six volumes. Mainly thanks to the TV anime adaptation produced by Silver Link and Nexus, the number has jumped up four times only in 18 months.
Photo posted by Toranoana Ikebukuro Store A
【池袋店A】【商品情報】TVアニメ絶賛放送中!!コミック版「落第騎士の英雄譚 4巻」好評発売中です!とらのあな特典はイラストカードをプレゼント♪只今アニメ化フェアも開催中☆お求めは是非池袋店Aで!! pic.twitter.com/o2HzIJ2bIy

— とらのあな 池袋店A (@tora_ike_a) October 15, 2015
By Melon Books Niigata Store
【書籍】アニメが始まってますます人気!「落第騎士の英雄譚(キャバルリィ) 4巻」本日入荷です! シリーズ累計100万部突破!王道ソードアクション読むならこの1冊! 特典でイラストカード配布中です! pic.twitter.com/6AFICBaXMX

— メロンブックス新潟店 (@melon_niigata) October 15, 2015
Novel 8th volume cover
Manga 4th volume cover
CM for this month's newest books from GA Bunko
Source: Toranoana, Melon Books
© Riku Misora Illustration:Won/SQUARE ENIX CO., LTD.
© Riku Misora, Megumi Soramichi/SQUARE ENIX CO., LTD.