Deatails will be revealed at the event on November 28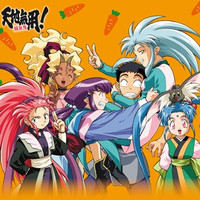 The official website and Twitter for the fourth season of Tenchi Muyo! Ryo-Ohki from the 23-year-old Tenchi Muyo! anime franchise opened yesterday, October 16, announcing to hold a "Fan Thanks Event" at Takahashi-city, Okayama Prefecture, where the story of the most recent series Ai Tenchi Muyo! in 2014 took place, on November 28.
A press conference to reveal the details on the new season will be also held in the event. Two original voice cast from the Ryo-Ohki series: Masami Kikuchi (Tenchi Masaki) and Ai Orikasa (Ryoko) with three from Ai Tenchi Muyo!: Haruhi Nanao (Aeka), Rui Tanabe (Rui Aoi) and Azusa Sato (Yuki Fuka), are scheduled to join, alongside producer Hiroaki Inoue.
The event will be held at Takahashi-city General Cultural Center at 14:00 on November 28, 2015. Advance tickets will go on sale at Fami Port and CN Playguide at 10:00 on October 17 (JST).
"Tenchi Muyo! Ryo-Ohki" anime series history
First OVA (six+one volumes/1992-1993)
Second OVA (six+one volumes/1994-1995)
Third OVA (six+one volumes/2003-2005)
1st and 2nd season Blu-ray box set
1st and 2nd season DVD box set
3rd season DVD box set
Source: "Tenchi Muyo! Ryo-Ohki" 4th season official website, Twitter
© Masaki Kajishima/Tenchi Muyo! 4th Season production Committee