Romanceable characters and more featured within the game!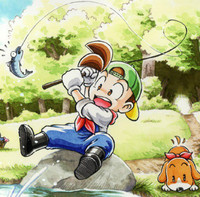 Harvest Moon: Seeds of Memories is an upcoming entry in the Harvest Moon series that's headed for release on Wii U, PC, iOS, and Android. It's coming out on a seemingly random smattering of devices, and it's going to be a little different from the previous games.
You'll see a wizard named Gareth and a witch named Tabitha exploring the Lost Valley and entrusting people with special quests. You'll be able to find a spouse among the people you speak with, and you can gift and receive gifts to make the people like you. This will eventually fill the affection meter so you'll be able to attract the NPC further.
It sounds like a supremely cute idea and in line with what we've come to expect from the games, so it'll most likely be another fun diversion. The fact that it links to Harvest Moon: The Lost Valley is a fun surprise as well.
[via Gematsu]
-------
Fueled by horror, rainbow-sugar-pixel-rushes, and video games, Brittany is a freelancer who thrives on surrealism and ultraviolence. Follow her on Twitter @MolotovCupcake and check out her portfolio for more.