Two editions are available on Sailor Venus' birthday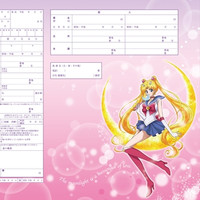 Konin Todoke Seisakujo/Design Laboratory for Marriage Paperworks has offered marriage papers can be used for official registration at government offices, featuring popular character brands such as Rilakkuma, Suzy's Zoo, Little Twin Stars, and Hello Kitty. The newest fifth brand joining the lineup is Sailor Moon Crystal, the ongoing reboot anime series based on Naoko Takeuchi's Pretty Soldier Sailor Moon manga.
There are two designs: "Romantic Love" with an illustration of Sailor Moon sitting on a crescent moon, "Make Up Princess" with the background patterns of the items of Sailor Soldiers. At the price of 3, 000-yen (about 25 US dollars), the two containing three papers (two for submission, one for a memory) are available in Japan from today, October 22, the birthday of Sailor Venus who represents love and beauty. Two more editions are scheduled to be added soon.
"Romantic Love" edition
"Make Up Princess" edition
【更新】セーラームーンの婚姻届が新登場! 1弾は三日月で微笑むうさぎがキュートなデザイン&変身アイテムをちりばめた大人デザイン。セーラームーンの婚姻届で思い出に残る入籍日をお迎え下さい♡https://t.co/dtR1PgHPMy pic.twitter.com/wssFmZJ0IW

— セーラームーン20th公式 (@sailormoon_20th) 2015, 10月 22
Source: press release