Directed by Nobuharu Kamanaka (Tokyo ESP, Oreca Battle episode director)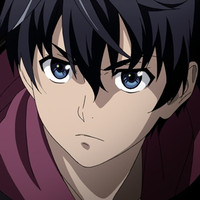 It is officially confirmed today, October 26, with the rap-around jacket come with the regular edition of the latest 8th tankobon volume that a TV anime adaptation of Sakae Esuno's sci-fi action manga series Big Order is in the works for a spring 2016 premiere. The limited edition set of the volume released on October 3 in advance contained a 25-minute original anime Blu-ray disc, and its staff and voice cast will work on the TV anime project as well.
Esuno is best known as the author of the Mirai Nikki/Future Diary series which has had over 4 million copies in print. Big Order has been serialized in Kadokawa Shoten's Shonen Ace since its November 2011 issue.
OAD/TV Anime Main Staff
Original Story: Sakae Esuno
Series Composition/Scenarios: Katsuhiko Takayama (Aldnoah.Zero, Triage X)
Character Design: Tomoka Kojima (Sword Art Online, Tokyo ESP episode animation director)
Director: Nobuharu Kamanaka (Tokyo ESP, Oreca Battle episode director)
Anime Production: Asread (Mirai Nikki, Yu-Shibu)
Production: Big Order Production Committee
Voice Cast:
Eiji Hoshimiya: Masakazu Morita
Rin Kurenai: Shiori Mikami
Iyo: Azusa Tadokoro
Sena Hoshimiya: Misaki Kuno
Daisy: Mari Misaki
Gennai Hoshimiya: Satoshi Tsuruoka
Ayahito Sundan: Yuu Hayashi
Benkei Narukami: Fumihiko Tachiki
Kagekiyo Tairano: Hitomi Harada
Yoshitsune Hiiragi: Shinnosuke Tachibana
Abraham Louis Fran: Tarusuke Shingaki
8th volume's rap-around jacket announcing the TV anime project
8th volume limited edition cover
CM for the OAD
Source: Comic Natalie
© Sakae Esuno/Kadokawa