Funeral will be held in Nishi Tokyo-city tomorrow, October 28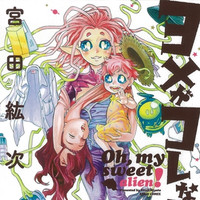 His fellow artist/musician ASUNA today reported that manga artist Kouji Miyata passed away abruptly last Thursday, October 22. He was 34. According to his father's Facebook post on Sunday, the cause of his death was brain hemorrhage due to high blood pressure. The vigil over his body will be held at Tanashiyama Souji Temple in Nishi Tokyo-city at 18:00-19:00 today, then his funeral will be conducted at the same venue at 11:00-12:00 on October 28.
After graduating from Tokyo Zokei University, his Jyabara (Bellows) received an honorable mention in the 8th EntraBrain Entertainment Award in 2006, then he made his professional manga artist debut with Neko de Tandem (Tandem by a Cat) in the 1st issue of EnterBrain's Comic Beam Fellows!. His first serialization work Kiki Mimi Zukan (Pictorial Book of Sound) was published in Comic Beam in its May to December issue of 2008. The last volumes of his latest works, Wanko ni Kuchizuke/Why Not Be My Dog's 2nd volume and Yome ga Korena Monde/Oh! My Sweet Alien!'s 6th volume, were just released
simultaneously in Japan on September 14, 2015.
Twitter post by ASUNA
友人であり漫画家/音楽家の宮田紘次が、去る10月22日に高血圧性脳出血で亡くなりました。 明日、通夜があるのですが、ご家族の希望で、知人はもちろん、ファンの方々も含め多くの方に集まってもらえたらとのことでした。よろしくお願いします。 pic.twitter.com/0brSYRJWxJ

— ▲ASUNA ▲AOTOAO ▲WFTT (@asuna_aotoao) October 26, 2015
"Wanko ni Kuchizuke" 1st and 6th volume
"Yome ga Korena Monde" 1st and 2nd volume
Source: ASUNA's Twitter