Story is set in 2067, 8 years after "Macross Frontier"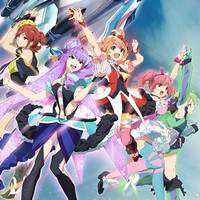 A press conference for Macross Δ (Delta) was held in Tokyo with its supervising director Shouji Kawamori today, October 29, announcing the details on the newest Macross TV anime series. While it was confirmed as a TV series, its on-air schedule has not been decided. Most part of the first episode will be introduced in the special program to be aired on Tokyo MX and BS 11 at 18:00 on December 31. The franchise's official portal site has posted its first PV, unfortunately it is region-locked and not allowed to be embedded legitimately.
It was announced that 18-year-old Minori Suzuki from Aichi Prefecture, the winner of the audition with 8,000 participants for the new singer/voice actress, will voice one of the heroines, Freyja Wion. The character is one of the five singing members of the girls tactical unit "Walküre." While Macross 7 featured a four-member rock band Fire Bomber, this is the first time for the franchise to have an all-girls group. All of the five girls will sing in the show, but the main heroine has not been chosen yet.
The story is set in 2067, eight years after the previous series Macross Frontier and is told in a planet
located in the remote part of the galaxy. To quite down the "Verle (Waal or Wahl?) Syndrome" which
has gone berserk, a five-girls tactical musical unit "Walküre." and "Valkyrie Unit" are formed to perform
cooperative operations. Meanwhile, a mysterious Valkyrie unit called "Aerial Chivalry Order" in "The
Kingdom of Wind" starts its operations. It will also feature more than one love triangle in the story.
Main visual featuring "Walküre"
Minori Suzuki and Freyja Wion (courtesy of Cinema Today)
[写真]「マクロス」新歌姫の声優が決定!新人・鈴木みのり!フォトギャラリー https://t.co/rJPXT6b4cY pic.twitter.com/OIEHnTicm3

— シネマトゥデイ (@cinematoday) 2015, 10月 29
Main Staff:
Supervising Director: Shouji Kawamori
Director: Kenji Yasuda (Shugo Chara!, Croisée in a Foreign Labyrinth)
Series Composition/Scenarios: Toshizo Nemoto (Dog & Scissors, Inu x Boku SS)
Original Character Design: Chisato Mita (CAPCOM)
Anime Character Design: Majiro (Barakamon)/Yu Shindo (Persona4 the Golden ANIMATION)
Macross Visual Artist: Hidetaka Enjin (Aquarion EVOL mechanical art)
Color Design: Kanako Hayashi
Art Director: Shigemi Ikeda/Yukiko Maruyama (Atelier Musa)
World Design: Thomas Romain
Art Design: Niem Vincent
Valkyrie Design: Shouji Kawamori
Mechanic Design: Brunet Stanislas
Director of Photography: Atsushi Iwasaki (T2 Studio)
CG Director: Hironori Morino
CG Supervisor: Hiroyuki Kashima (unknownCASE)
CG Animation Director: Atsushi Sakiyama (unknownCASE)
Editing: Kentaro Tsubone (REAL-T)
Music Production: Flying Dog
Sound Director: Masafumi Mima
Anime Production: Satelight
via: Mantan Web, Cinema Today