GTO author Toru Fujisawa's 2014 "Oishii Kamishama" and Hikaru Nikaidou's 2014 "Heavens Runner Akira" end in the issue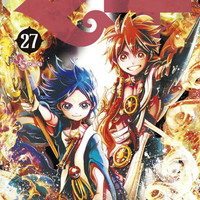 The 2015 issue 48 of Shounen Sunday, out in Japan October 28th (despite the name, out on Wednesday), is introducing some change-ups for the manga magazine. GTO author Toru Fujisawa's 2014 Oishii Kamishama (Delicious God-chama) and Hikaru Nikaidou's 2014 Heavens Runner Akira are ending. And, perhaps biggest of all, Shinobu Ohtaka's 2009 anime-adapted Magi: The Labyrinth of Magic kicks off its final storyline in the issue.
Ootani Akira (Gundam - Far East Japan) will be launching new sports manga Nippen! in the next issue.
Not explicitly related to Magi wrapping up, this August, Shonen Sunday announced big plans for the 56-year-old magazine with editor-in-chief Takenori Ichihara, who took the position in July, publishing a letter explaining his intention to shake up the weekly.
Ichihara explained that while familiar series may be going away, he aims to bring in both returning veterans and rookies with new series that appeal to a broad audience. He further promised that, going into the fall, the magazine would also also be trying out more ideas with additional one-shots.
Plans have been announced to adapt Ohtaka Shinobu and Yoshifumi Ohtera's ongoing Magi prequel/spin-off Adventure of Sinbad. Miyao Yoshikazu, who previously helmed OVA adaptations, returns for the upcoming AOS Project production, scheduled to air on the latenight Animeism broadcast in April 2016.
Volume 27 was released October 16th, along with volume 8 of the Sinbad spin-off
------
Scott Green is editor and reporter for anime and manga at geek entertainment site Ain't It Cool News. Follow him on Twitter at @aicnanime.