ChouCho's theme song CD will be released on November 25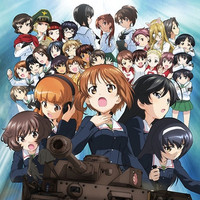 Bandai Visual today released a 90-second full trailer for the upcoming all-new feature film Girls und Panzer der Film featuring its theme song "GloryStory" performed by Choucho. She previously provided the OP song for the 2012 TV series, "DreamRiser." The theme song CD will be released as her 11th single on November 25.
The film was originally scheduled to be released as a 90-minute film in the summer of this year, but it has been postponed in order to add 30-minute more scenes. Now it is set for a November 21 release in Japan. All of the main staff, including the director Tsutomu Mizushima, screenplay writer Reiko Yoshida and character designer Isao Sugimoto, are back for the film project.
Full trailer
Main visual
"Preparation" PV posted in March 2015
Flyer
via: "Girls und Panzer" official twitter
© Girls und Panzer Projekt