"Library Wars: The Last Mission" has earned 1.1 billion yen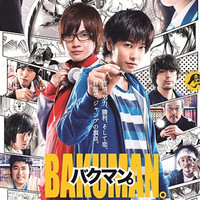 In its fourth weekend, the live-action film adaptation of the Bakuman. manga series, created by Tsugumi Ohba (story) and Takeshi Obata (art), still ranked 4th, one down from the previous weekend. By October 27, it has attracted 1,000,007 audience, earning 1,307,058,000 yen from 324 screens in 25 days since its release on October 3. By comparison, Parasyte: The Final Chapter released in April of this year spent 23 days to reach the record with 422 screens. So far the film has been doing OK at the box office, but not with an impressive momentum.
Meanwhile, Library Wars: The Last Mission, the second live-action film adaptation of Hiro Arikawa's light novel series lost its top place to Kouki Mitani-written/directed sci-fi comedy Galaxy Turnpike in its third weekend, ranking second with a total gross of 1.1 billion yen. The notable new comer was Tobidasu PriPara: Mi~nna de Mezase! Idol☆Grand Prix, the PriPara franchise's first 3D film, ranking 13th with only 73 screens.
Japans's weekend Box Office (October 24-25, 2015)
1 (new). Galaxy Turnpike
2 (1). Library Wars: The Last Mission
3 (2). The Intern
4 (3). Bakuman.
5 (new). Maze Runner: The Scorch Trials
6 (new). The Transporter Refueled
7 (4). Heroine Shikkaku
8 (6). UFO Gakuen no Himitsu
9 (8). Kokoro ga Sakebitagatterunda.
10 (5). John Wick
"Bakuman." trailer
"Tobidasu PriPara: Mi~nna de Mezase! Idol☆Grand Prix" trailer
Source: Eiga.com, Movie Natalie