Nelke Planning-produced play will be performed in Tokyo and Osaka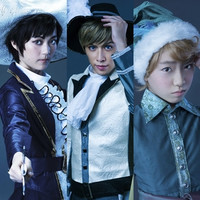 Following the main visual, individual visuals of the eight cast for the upcoming musical adaptation of Osamu "God of Manga" Tezuka's classic manga in the 1950/1960s, Ribbon no Kishi/Princess Knight, have been revealed in the web. Two members of Japanese girls idol group Nogizaka46, Erika Ikuta and Reika Sakurai are among the cast as the protagonist Sapphire and Hecate, respectively.
The musical is produced by Nelke Planning (The Prince of Tennis Musical, Haikyu!!, Black Butler) as a 60th anniversary project for Kodansha's Nakayoshi shoujo magazine, in which some of the manga series were serialized in the 1960s, and is scheduled to be performed at Akasaka ACT theater in Tokyo from November 12, then at Theater BRAVA! in Osaka from December 3.
Erika Ikuta as Sapphire
Keisuke Kaminaga as Prince Franz
Tsunemori Aoki as Captain Blood
Reika Sakurai as Hecate
Tomoru Akazawa as Plastic
Airi Kanda as Tink
Masakatsu Nemoto as Baron Nylon
Shouko Haida as Mrs. Hell
Main visual
Original manga art by Tezuka (C) Tezuka Productions
via: Comic Natalie