Parco Museum will hold the event from November 20 to December 7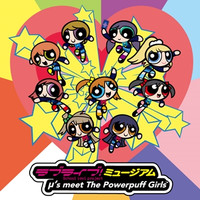 In commemoration of the 15th anniversary of The Powerpuff Girls' premiere on Japanese TV, Parco Museum located on the third floor of the Shibuya Parco Part 1 building will hold a special collaborative exhibition titled "Love Live! ~μ's meet The Powerpuff Girls," also featuring the Love Live! School Idol Project franchise. The first episode of the American animated television series created by Craig McCracken was aired on TV Tokyo in October 2001.
While explaining the five-year history of the Love Live! franchise, the exhibition will also display original American comic style art works of its VA unit μ's inspired by The Powerpuff Girls, and will offer various merchandises using the arts. The admission-free event will be held at the Shibuya venue from November 20 to December 7, then will move to Hiroshima (December 12-27), Sapporo (January 22-February 7) and Nagoya (February 11-28).
Event main visual
© 2013 Project Love Live!/TM & © Cartoon Network. (s15)
The Powerpuff Girls
TM & © Cartoon Network. (s15)
Source: press release