"Tamayura Day 2015" event will be held in Hiroshima on November 1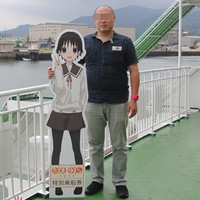 To promote "-Akogare-" (yearning), the upcoming third episode of the four-episode final chapter of Tamayura anime series, Tamayura: Sotsugyo Shashin (Graduation Photos), the franchise is collaborating with three ferry companies in Hiroshima Prefecture, offering life-size boat tickets of the four main girls: Fu, Kaoru, Norie, and Maon. A lottery for the approximately 150-160cm tall tickets (one for one character) will be conducted at the "Tamayura Day 2015" event to be held at Takehara-city in Hiroshima Prefecture on November 1. They can be used in selected ferry lines till April 30, 2016.
The third episode is set in "Shoukei no Michi" (The Road of Yearning), the real festival in Takehara-city, and is scheduled to get a limited theatrical run for two weeks from November 28. The yet-titled last fourth episode is set to be released on February 20, 2016.
Tickets image
"Tamayura Day 2015" main visual
Trailer for the third episode "-Akogare-"
Third episode poster visual
Source: "Tamayura Sotsugyo Shashin"official website
© 2015 Junichi Sato, TYA/"Tamayura Sotsugyo Shashin Production Committee