12 days faster than the "Anohana" film in 2013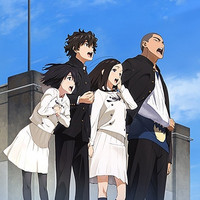 It is confirmed that A-1 Pictures' original feature film Kokoro ga Sakebi Tagatte Irunda. (English title: The Anthem of the Heart) has earned about 1,015 million yen from 744,900 ticket sales in Japan by November 1, in 44 days since its release on September 19. It is 12 days faster the same production team's previous film, Anohana: The Flower We Saw That Day, released on August 2013, which spent 56 days to reach the mark. Kokosake is expected to soon surpass the total domestic gross of Anohana, 1,040 million yen.
The 119-minute film is set in Chichibu-city in Saitama Prefecture, where the story of the Anohana film was also told. It opened in Japan on September 19 and reportedly earned 500 million yen in its first 11 days.
"The Anthem of the Heart" Exclusive Preview
Poster visual
via: Mantan Web
(C) KOKOSAKE PROJECT